Consistent Grouping
 can be used to timetable consistently-setted groups or sets.
Example: if your students are setted the same for Science as for Technology and Geography: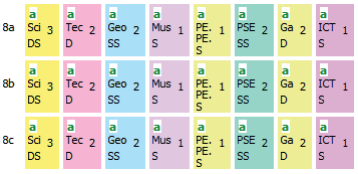 It can be used as a better (easer to set-up) alternative to 'Container Blocks' for many curricular structures, and is often used in Scottish schools as well as in KS3 & KS4.   It can be thought of as a special method that can be allows you to say that certain classes cannot be scheduled at the same time as each other.
---
For information on how to use
Consistent Grouping
in KS3 & KS4, with examples, see the
PDF
on this topic by
clicking here
.
It gives several
examples
of curricular structures with
consistent setting
,
consistent grouping
, as well as
split teaching in a simple block
.
In each case a curriculum diagram is given, with a recommended solution.
---
If you are timetabling in Scotland, then in
TimeTabler
go to "
Basic Data -> Classes Screen -> Advanced button"
, and click on '
Consistent Grouping
', then click on the button "
Timetabling in Scotland
" to find a dedicated
PDF
to help you.
Or you can type '
Scotland
' into the Search Box above to see the article
here
.
---
    

Sixth Form Blocks (Years 12/13):
In the Sixth Form (Years 12 & 13) you often need to use
Container Blocks
instead of Consistent Groups - for this, see the
PDF
article on '
Container Blocks
' and
this article
.
---
Any further questions about Consistent Grouping, just let us know.
Note

:
If you are in any doubt about whether
Consistent Grouping
or
Container Blocks
is the best way for your school, then please
ask by sending a Ticket in the Support Centre
(as in
HelpMovie 4
) and by attaching a Curriculum Diagram to your Ticket, so that we can understand your situation and advise best.