Labelling your Periods
You can choose to label your periods in any way that suits your school / timetable.
To do this: on the Main Menu, click on Check & Tidy and then on Edit Day & Period Labels (or go via "Print -> Publishing your Timetable -> Day & Period Labels", or via "Customize -> Day & Period Labels") ... and then click on one of these tabs:
---
     Period Labels
Most Timetable Printouts and Timetable Screens use the "Period Labels".
If you find that your Timetable Printouts do not show all the Period Numbers you want, then add/edit the correct Period Labels.
---
     Short Period Labels
Note that the "Period Labels" are used on some screens, and the "Short Period Labels" on others (generally depending on space available):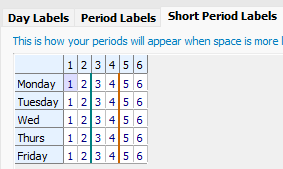 ... so you will want to align those two screens / get them both looking right.
---
     Period Times
Note that these are used by features which need to know the exact start and end times of your periods, for example: "Blocking-off" or "Teacher Hours report" or "Export to (some) MIS".
---
Any questions, please ask.
See also Section J3 in the Manual.
---